ADW – 'pricks and mortar' – Solo Exhibition in South Studios Dublin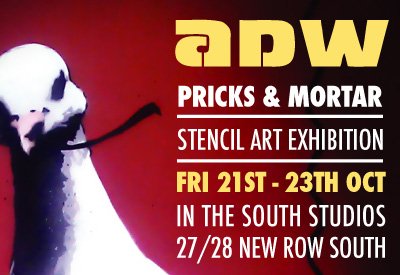 The work of Irish street artist, ADW is very familiar to the people of Dublin.
His street art has an unique style which mashes popular culture and Irish humour into iconic pieces.
After his first successful solo show 'Stensual' in 2010, ADW returns with brand new work entitled, 'Pricks & Mortar' – His new show is more than just an exhibit, it also features 3D pieces and installations which sum up the post Celtic Tiger hangover.
Only showing for three days, don't miss 'Pricks & Mortar' the brand new show by Ireland's most prolific stencil artist.
EVENT DETAILS:
http://www.facebook.com/event.php?eid=273718702649689
South Studios website:
http://southstudiosdublin.wordpress.com/